Daniel Steinberg, MD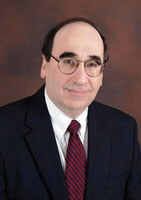 Daniel Steinberg received his Sc.B. from Brown University, Masters degree in microbiology from Boston University and his M.D. from the Boston University School of Medicine.
After completing his residency in internal medicine at the University Hospital in Boston, Dr. Steinberg pursued his specialty training in allergy/clinical immunology as the Vernon Dale Fellow at the National Jewish Center for Immunology and Respiratory Medicine in Denver, Colorado. While at the National Jewish Center, his research received first prize from the American College of Allergy, Asthma and Immunology (ACAAI) for the outstanding study by an allergy/immunology fellow.
Dr. Steinberg has a strong interest in the management of allergic/respiratory disorders as well as the effects of environmental and infectious diseases on public health. He presently serves as Director of the Allergy and Asthma Center of Massachusetts and Assistant Clinical Professor at the Tufts University School of Medicine. He previously served on the Board of Directors of the American Lung Association of Massachusetts, as President of the Massachusetts Allergy & Asthma Society and has been recognized by Boston Magazine as one of Boston's Top Doctors in the field of allergy/immunology.
Dr. Steinberg has been involved in several local, regional and national initiatives advocating for patients with allergic/respiratory and immune disorders. He previously served as Chairman of the Affordable Access and Managed Care Committee of the ACAAI where he was involved in initiatives to enhance affordable access to services for patients with asthma and allergic disorders. From 2005-07, Dr. Steinberg served as Northeast Regional Governor of the Federation of Regional, State & Local Allergy, Asthma and Immunology Societies (RSLAAIS) of the American Academy of Allergy, Asthma and Immunology (AAAAI). In 2007, he was elected by the Federation's Board of Governors to serve as Chairman of the AAAAI's Federation of Regional, State & Local Allergy, Asthma and Immunology Societies (2009-2011).
In 2011, Dr. Steinberg received the AAAAI's RSLAAIS Leadership Award "in recognition of service to the regional and national allergy/immunology communities as a leader, mentor, advocate and educator". The AAAAI confers this award in recognition of individuals "whose contributions have advanced the science and knowledge of allergy/immunology, the mission of the AAAAI and helped to improve optimal patient care".
Dr. Steinberg has addressed several professional organizations on topics relating to allergic/respiratory medicine, pharmaceutical safety, integrating emerging technologies to enhance clinical outcomes and the environment's effects on public health. In these areas, Dr. Steinberg serves as consultant and advisor to several organizations and institutions.
Contact Us
Chestnut Hill Medical Center
25 Boylston Street - Suite L02
(Route 9 West)
Chestnut Hill, MA 02467
Directions / Map / Hours
Tel

: 617.232.1690

Fax

: 617.739.7082

Email

:

This email address is being protected from spambots. You need JavaScript enabled to view it.